The PureMagic Microfiber Drying Towel is a twist loop drying towel that has the "flop" and satisfying weight that many people love in drying towels (1100gsm). Featuring a premium 70/30 blend and hemmed "hidden" edge, this large towel is tough on water but soft on paint. Compared to our other premium drying towels, the PureMagic Microfiber Drying Towel features a longer "loop" design and a unique color to our drying towel lineup. Everyone has a preference when it comes to drying towels, but the PureMagic Microfiber Drying Towel is our recommendation for anyone new to microfiber drying towels.

PRODUCT INFORMATION:
GSM: 1100 GSM
Blend: 70% Polyester / 30% Polyamide
Weave: Twist Loop
Border / Edging: Hemmed Hidden / Edgeless Design
Please Note: Due to the longer closed loop structure of the PureMagic, a loop may occasionally snag while drying. Simply take a pair of scissors and snip the thread to return the towel to new. Due to the unique tight weave design, there is no reason for any concerns about unraveling. We recommend washing the towels after every use to preserve the absorption and soft feel.
Machine wash or hand wash with warm water (water temperature SHOULD NOT exceed 60°C), use mild LIQUID detergents with no fabric softeners, no dyes and no perfumes in them as that can clog the pores in the microfiber fabric, degrading its dirt trapping property and water absorption.
Only wash with other non-linting materials (No cotton) to maintain original water absorption and dirt trapping properties and keep it lint-free, since the microfiber fabric has a nature to attract and trap any free particles like lint.
Hang to dry in the shade, DO NOT dry in direct sunlight as the excess heat can melt the individual fabric, drastically reducing its softness and water absorption capability.
This is a specialised drying towel, so DO NOT use it to apply waxes, polishes or car shampoo as that can clog the pores in the microfiber fabric.
Free shipping for all prepaid orders.
Delivery usually take 2-7 working days depending on your location:

Metros: 2-4 days
Other cities: 3-7 days
Good & does the job in 10 minutes
First buy really liked it after washing the car to dry previously it used to take me lot of time but now just with one towel the 1100gsm does it superbly. But one doubt in my mind did i get the same one as shown in the picture the colour looks different.? Overall a fantastic product in our car detailing.
Superb absorbancy , feel like premium
I have used almost 5-6 times ,this one is far better than others .great quality .I recommend to everyone.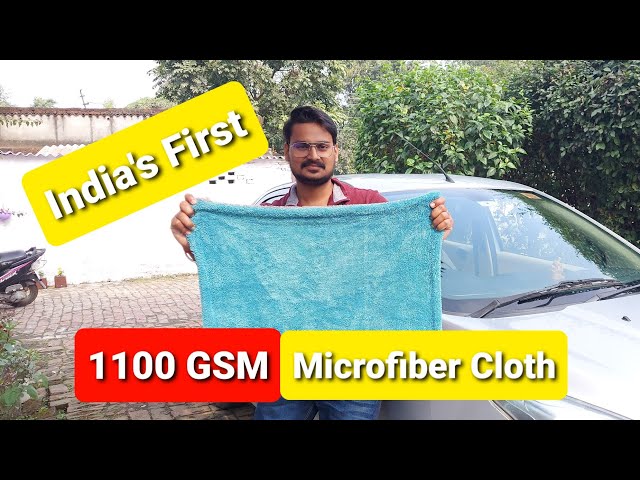 PureMagic 1100 GSM Microfiber Drying Towel
Nice quality
Just started using recently and the first impression is really good. It absorbs the water!. Makes the life easier.